Hi everyone! This is my first time hosting the RoundUp and I'll try my best but don't you go expecting perfection.
First, before I jump into the RoundUp, I have to say this whole government shutdown business is nuts. I know it's happened before but I can't believe we are about to let it happen again. The way it has gone down is not making the US look particularly good to the rest of the world. I hope it's resolved and soon because the livelihoods of many of us will be directly affected, if they end up shutting the government down for real. I don't see why government workers and their families need to be the scapegoats in the political war going on in Washington. We have kids to feed and bills to pay just like everyone else, however that doesn't seem to enter the equation. But enough said.
Moving on to the RoundUp. Our optional theme was Best of (your current or past post). If you didn't love the theme, you can blame Sarah at Novakistan, who wrote an awesome two-part piece (that you can read here and here) about the delights of living in Manila. If you are considering Manila as a future post and haven't read these, you just have to do it. You also get to look at terrific pictures like this: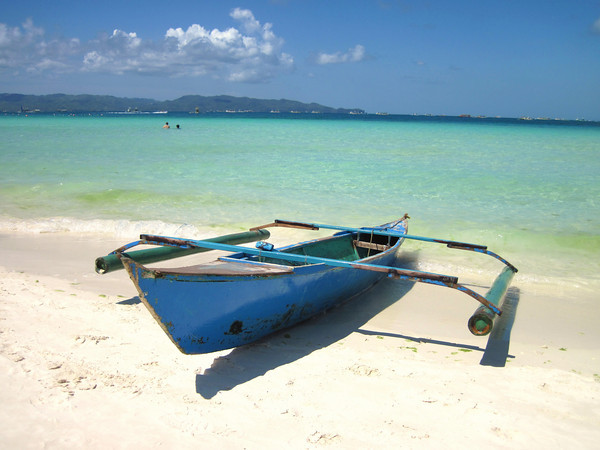 I got only a couple of submissions on the theme. I am not sure if it's because I didn't give you enough time or everyone was worried about the government shutdown but I would like to keep the Best of idea open, so if you decide to write about your post in the future, please leave the link in the comment section below, even if it's months from now. I will find a way to feature it either here at my blog or link it to A Daring Adventure's State Department Blogger Map or both. I think sharing this type of information would benefit many of us. 
Anyway, a big thank you goes to the few who responded to the theme. Like Becky of Small Bits who talks about life at the US-Mexico border. I know I was nervous at the prospect of being sent there but she does a good job of describing the pros (we all know the cons). So if any of you are considering Mexican border posts, you may find that post useful.
It's Cherry blossom season in the D. C. area and Rambles and Ruminations thinks that's the best of D. C. The whole family went down to the Tidal Basin a few days ago to admire the blossoms and take gorgeous pictures like this one:
There are more where this came from, so head on over there and enjoy. We also wanted to go and take some family pictures at the Tidal Basin last weekend but made the mistake of driving down there. The crowds were insane, perhaps because the weather had been really crappy the previous weekend but there were absolutely no parking spaces to be had, so unfortunately, we had to turn around and go back home sans Cherry Blossom pictures. Bummer!
There's a lot more to the D.C. area than the Cherry Blossoms though. When we came to the area I (inspired by another FS blogger) made a list of the places I thought were the best of D. C.  that you are more that welcome to use, if you are new to the area and are wondering what to do with your time (or you get furloughed and all of a sudden have a lot of free time).

Since we haven't yet shipped out to our first overseas post, I rarely have anything to say about the RoundUp themes but decided to participate this time regardless, so I wrote a Best of Bulgaria post. If Sofia's on your bid list, you may want to check it out.
I am not sure if HotPot intended her blog entry to be part of the RoundUp but it did a great job of describing the delights of Guangzhou and comparing it to their current post Chengdu.
The next few entries may be off topic but they are interesting nonetheless. And the theme was optional, right?
Adventures Around the World describes an interesting wake up call in Kathmandu. The best part of living in Malawi is apparently a trip to Zambia according to Shannon at Cyberbones, so she opted to write about household help instead, which is a recurring theme among the Foreign Service crowd. Zoe at Something Edited This Way Comes announced the results of the Best-Disguised Foreign Service Couch contest and it's a three-way tie! Diplomatic Mom, who just started her own career as a Diplomat with the 160 group of FSOs, describes her first week on the job. Diplochick and The Red Menace Abroad, also from the 160 group of FSOs, shared their first impressions of A-100 as well. Email from the Embassy had fun with alliteration, parents and ponies in Petra, Jordan. Lovely pictures too!
Jill at The Perlman Update has several free offers for you. Face lift, lip implants, or liposuction anyone? Head on over there and she'll hook you up. Travel Orders, who are expecting a baby boy in less than five weeks, have been researching raising bilingual children and are sharing what they have learned. They like to be prepared, can you tell? Worldwide Available, writing from the Ukraine, is contemplating what she'd do if she's furloughed. Life After Jerusalem wrote a series of blog posts sharing her feelings about the government shutdown.
Just heard that Congress has reached an agreement and there will not be a government shutdown after all. That means we can all breathe a collective sigh of relief and go to bed!
It looks like Becky over at Small Bits will be hosting next week's RoundUp.
If you've been thinking about hosting the RoundUp, you can sign up here.
Have a wonderful weekend everyone!